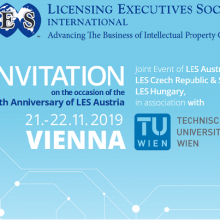 Joint Event of LES Austria - LES Czech Republic & Slovakia - LES Hungary
21. - 22. listopad 2019, Víděň - Joint Event of LES Austria, LES Czech Republic & Slovakia, LES Hungary in association with Technische Universität Wien
Meet Licensing Professionals from different fields of industry as well as from universities, from the public and the legal sector and listen to presentations from top specialists, share thoughts and ideas, use networking opportunities!
More information in detailed program.
R.s.v.p. by 15 November 2019 at seminar@les-austria.at. Please indicate "whole event" or "Friday only" reservation.